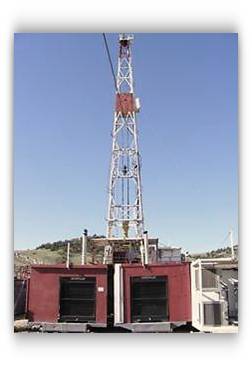 NATIONAL T45, 750HP DRILLING RIG
SOLD AT AUCTION!
Email for more info
(1 of 15 Rigs Available)
"CONTRACTOR-BUILT" RIG! THIS RIG IS WINTERIZED...
ANY AND ALL OFFERS WILL GO TO SELLER!
(2) MD PZ-9 Triplex Pumps p/b (2) GE 752's

Call NOW! (800) 952-1973

Listing Details


PART OF A 15 RIG PACKAGE
RIG NO. 4
Draw-works National T45 electric driven by 752 traction motor, 800 HP with Eaton disc brake.
Substructure & Mast Dreco 131' mast, 385,000# hook load,1 1/8" drilling line, LCM 18'x28'x41' substructure setback capacity 400,000#
Generators 4 bay IPS system, SCR (new), (3) CAT C-32 generators 725 KW
Mud Pumps (2) MD-PZ-9 triplex driven by (2) 752 traction motor
Rotating & Traveling Equipment Gardner Denver rotary table, 20.5" Bass Ross traveling blocks, 300 ton Emsco swivel, LB 200 BJ type B tongs
Blowout Prevention 11" annular BOP - 3,000 psi, 11" Shaffer LWS double gate ram BOP - 3,000 psi, 180-gallon automatic accumulator, 4-station air actuated remote control panel 3" x 5,000 psi, choke manifold with gauges and manual chokes
Doghouse, Water, Fuel & Mud tanks Heated doghouse, (1) fuel tank - 8,000 gal, (1) water tank - 400 bbl, (2) tank mud system 850 bbls with (4) 5x6x11 centrifugal pumps on low pressure system, (3) mud agitators, (2) Swaco ALS linear shakers, (1) National 2 cone desander, (1) National 10 cone desilter
Handling Tools/Auxiliary Equipment (2) hydraulic catheads, (2) hydraulic winches, Pilot II automatic driller, (1) Sure Shot 7 degree A-1 survey instrument, (1) set hydraulic kelly spinners, (1) set hydraulic pipe spinners
Drill Pipe & Drill Collars 11,000' - 4 1/2" 16.60# mixed grade drill pipe, (21) 6.25" x 2.25" x 30' slick drill collars, (2) 8"x 30' slick drill collars
Email for more info
Listing No. 70